Ichikawa School
E-life International School Ichikawa
(Elife International School Ichikawa)
Capacity: 28
Opening Hours
【Monday - Friday】After-school -18:30 (Extension -19:30)
【Saturday&Holiday】9:30-18:30 (Extension 8:00-19:30)
Closing: Sundays, National holidays, 12/29-1/3
If you would like to book a visit to see our facilities and to experience E-life Ichikawa's Education
please call us at 080-6206-7425
or send us an E-mail at 
This email address is being protected from spambots. You need JavaScript enabled to view it.

.
We are receiving a large volume of calls and emails,  but rest assured that we will entertain all your emails and calls to us.
【Basic Charge】
◎Admission Fee………………… ¥10,000
◎Usage Fee……….............. ¥12,000/Month
◎Snack Fee…………….. ¥2,000/Month
◎Teaching Material Fee………………... ¥20,000/Year
◎Insurance Premium………………… ¥800/Year
【Others】
◎Optional Program……¥7,000 / Course (Only for those who are interested)
◎Meal Fee……………¥500/meal (offered to those who wish to avail extended childcare)
◎Other Expenses when incurred due to events, excursions, etc. (for Participants only)
◎Temporary Custody…………¥2,000/Day
※Availing Temporary Custody does not incur other costs such as admission fee and insurance premium。
Additionally, students may bring snacks. Otherwise, if they wish not to bring a snack they may avail a snack at its actual cost.
※FREE pick-up support is available by foot or by car.
Terms and Conditions applied (for more information, please contact us)

。

 

 

 

 

English

(Activity) 

English

(Speaking)

English

(Activity)

English

(Writing)

English

(Activity)

※Robotics

Craft

 

Math

ー

IT

ー

Arts &

Craft

 

※Kids Scientist

 

※Python

Programming

ー

ー

ー

※Design

Thinking 

 
   ※Table above comprises optional course schedule for those who are interested to participate. For more details, see "Option Course Introduction" below.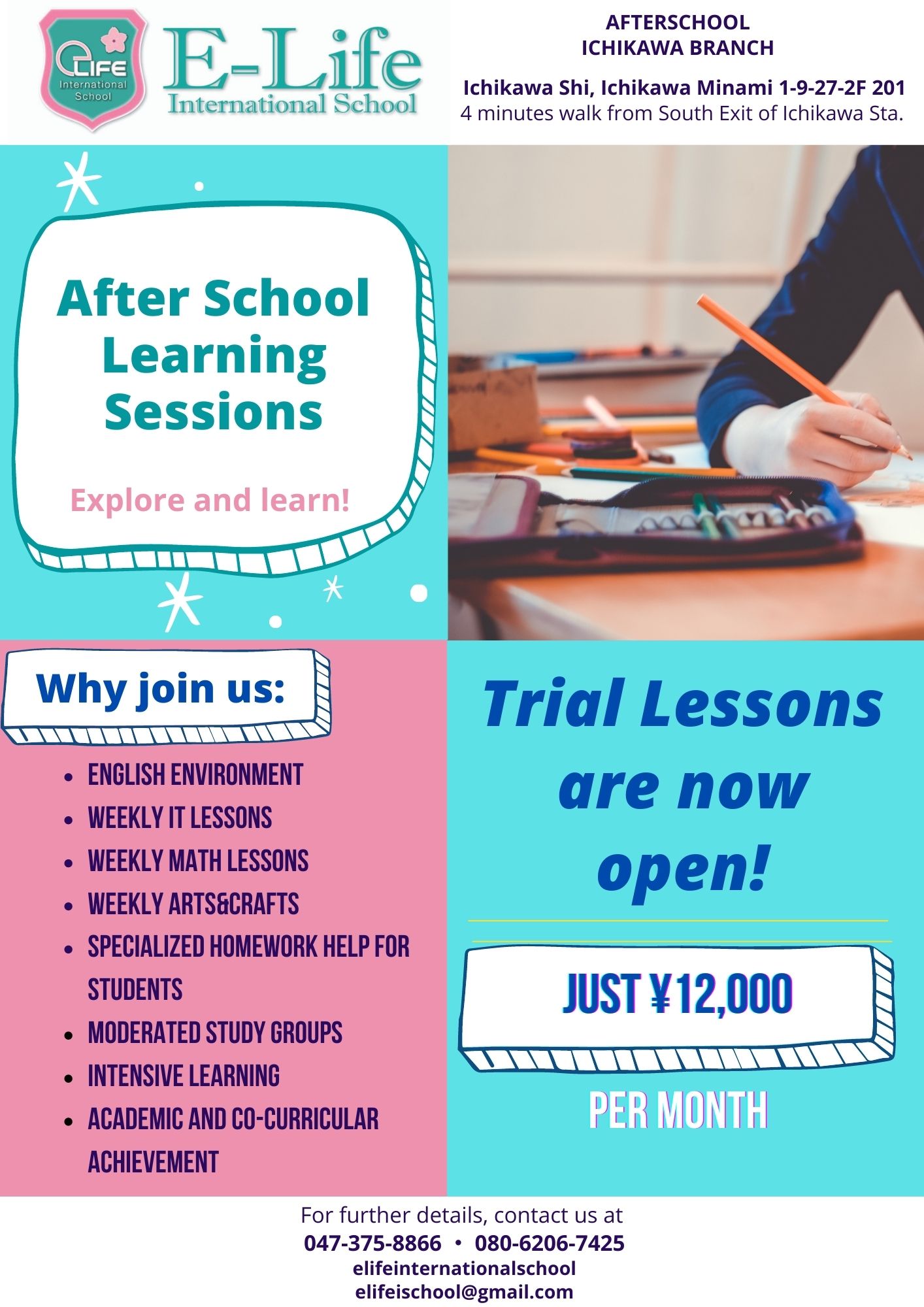 【Regular Class Daily Schedule】
Updating...
INTRODUCTION OF OPTIONAL COURSE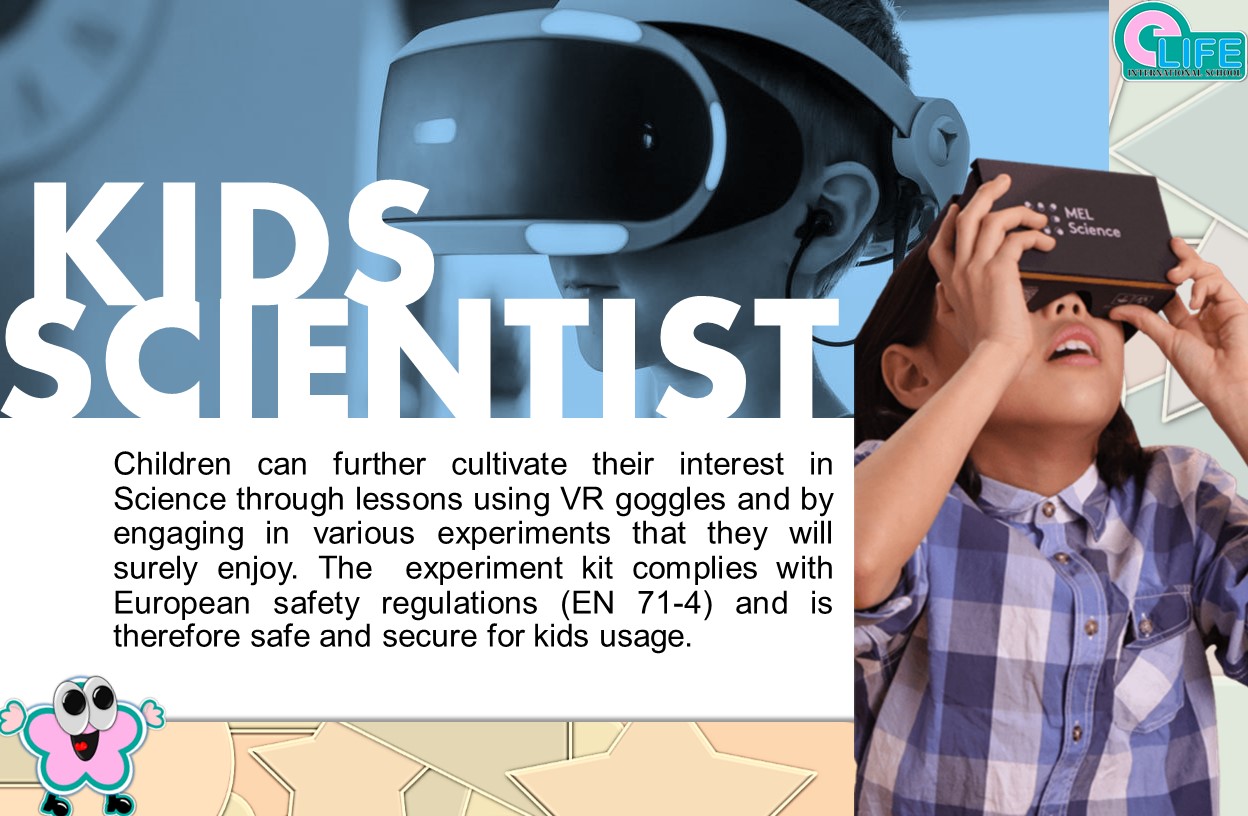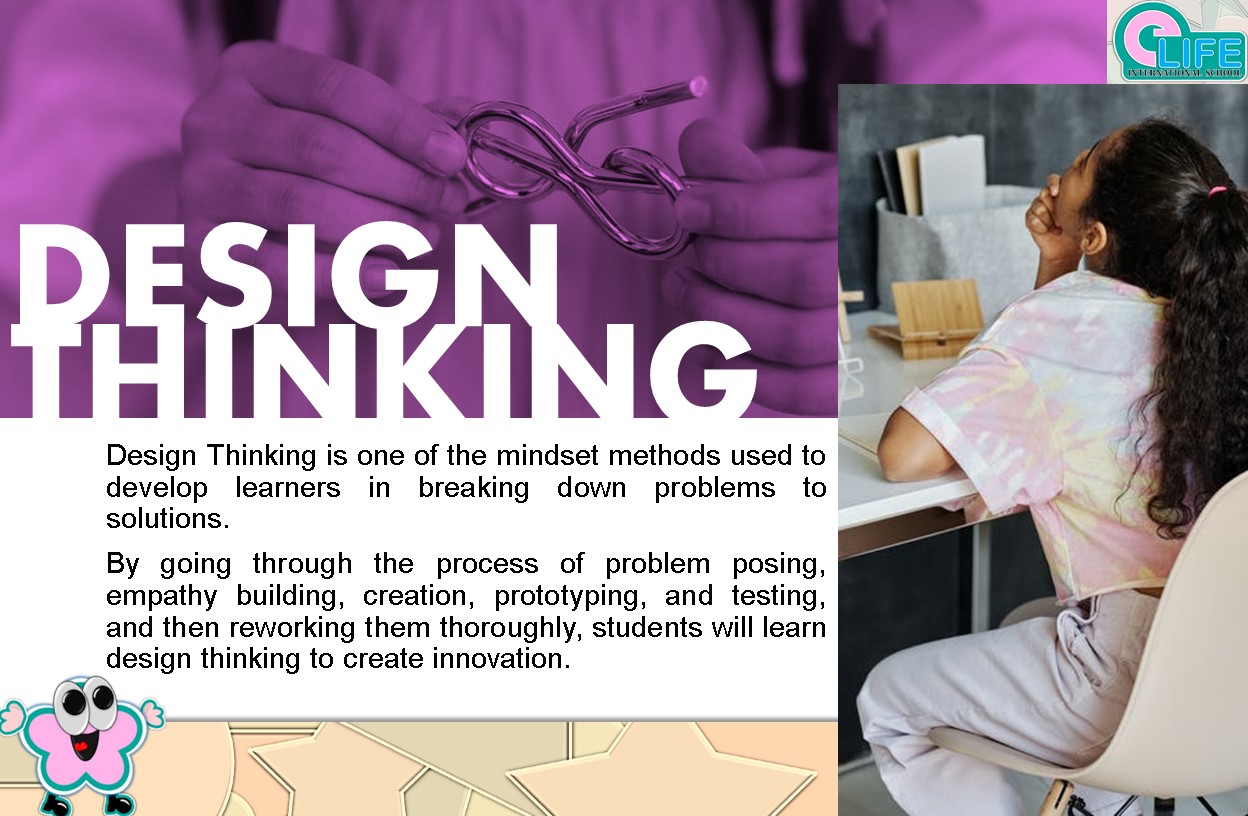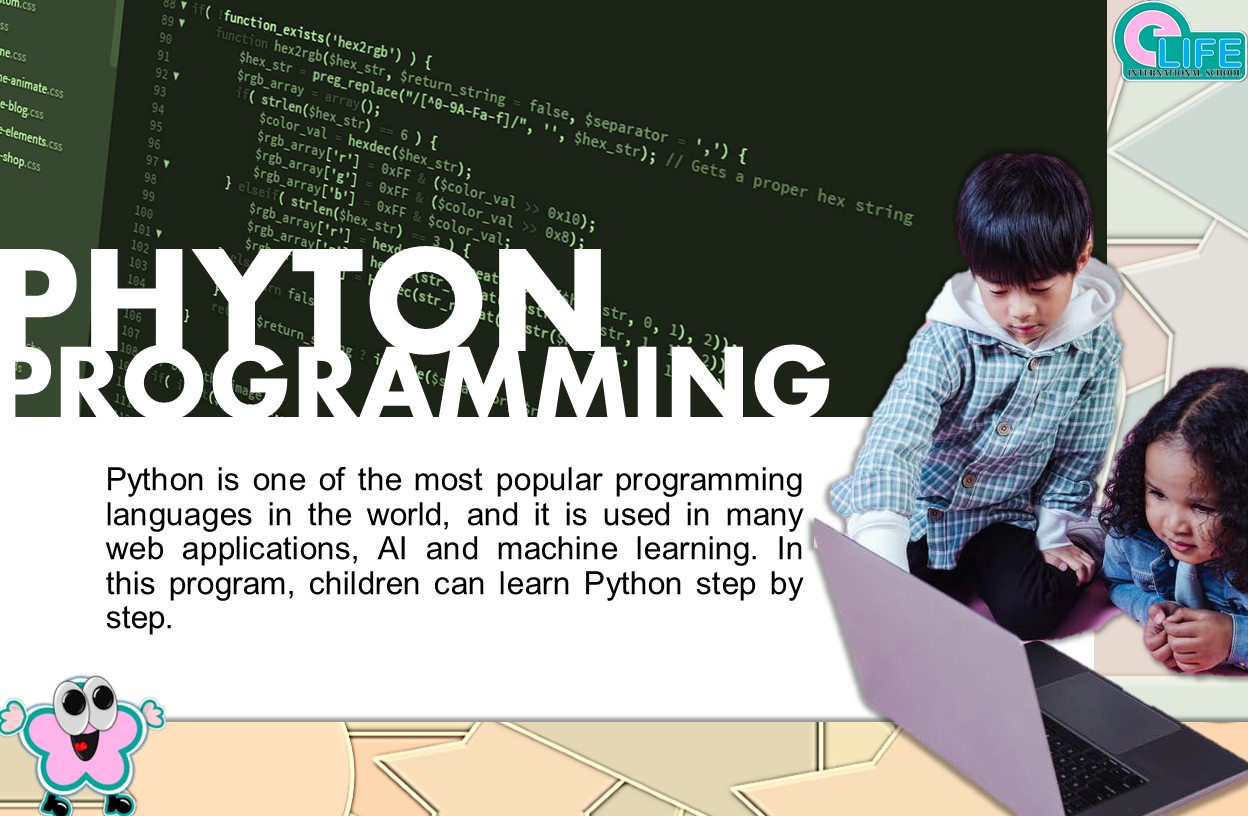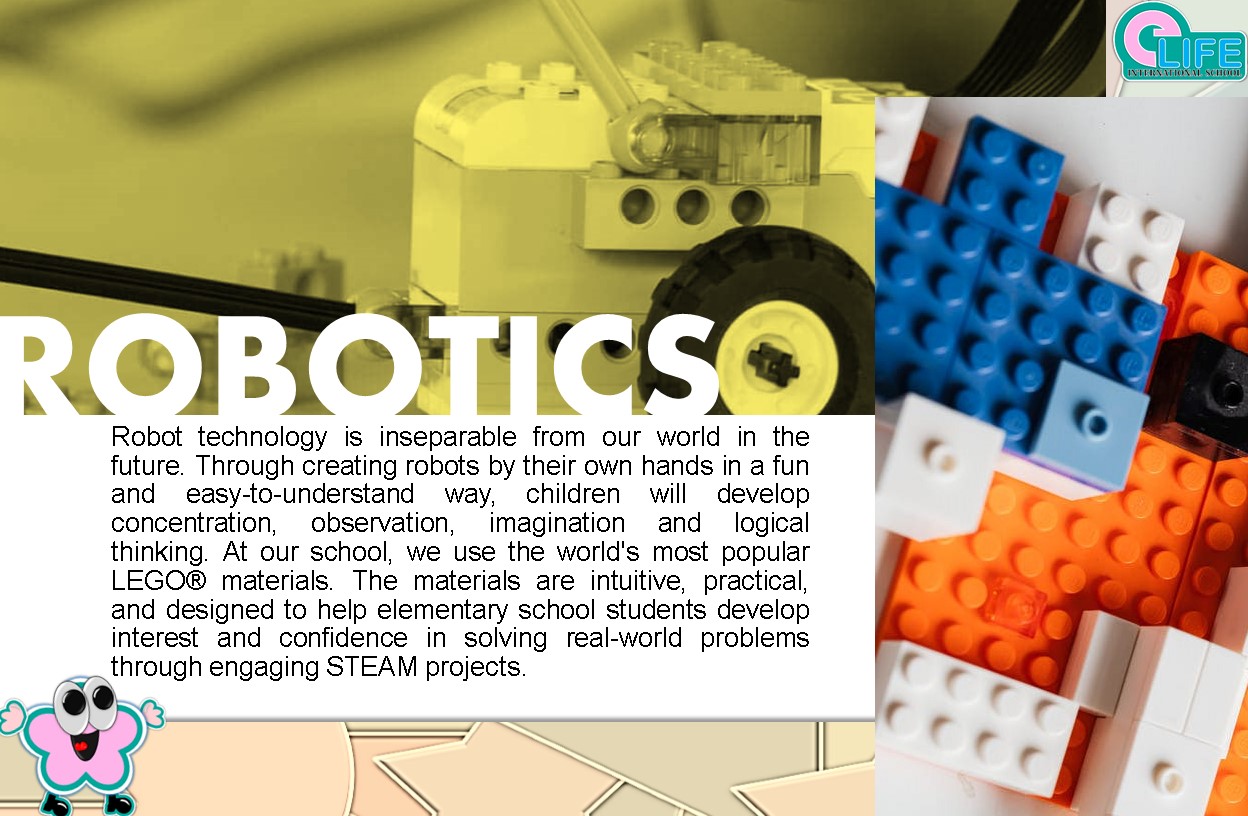 ★☆SPECIAL OFFER: OPENING CAMPAIGN IS IN PROGRESS☆★
CAMPAIGN ① If you have decided to register and use the service from March, USAGE FEE for the month of March will be waived (FREE)。
Take advantage of this promo to be used as a transition period for after-school children's clubs in Nursery schools and Kindergartens, also as Break-in period as they advance in their grade level!
CAMPAIGN ② Register your child to ALL (4) FOUR OPTIONAL PROGRAMS offered by E-Life for only 20,000 yen per month.
You may also avail the options !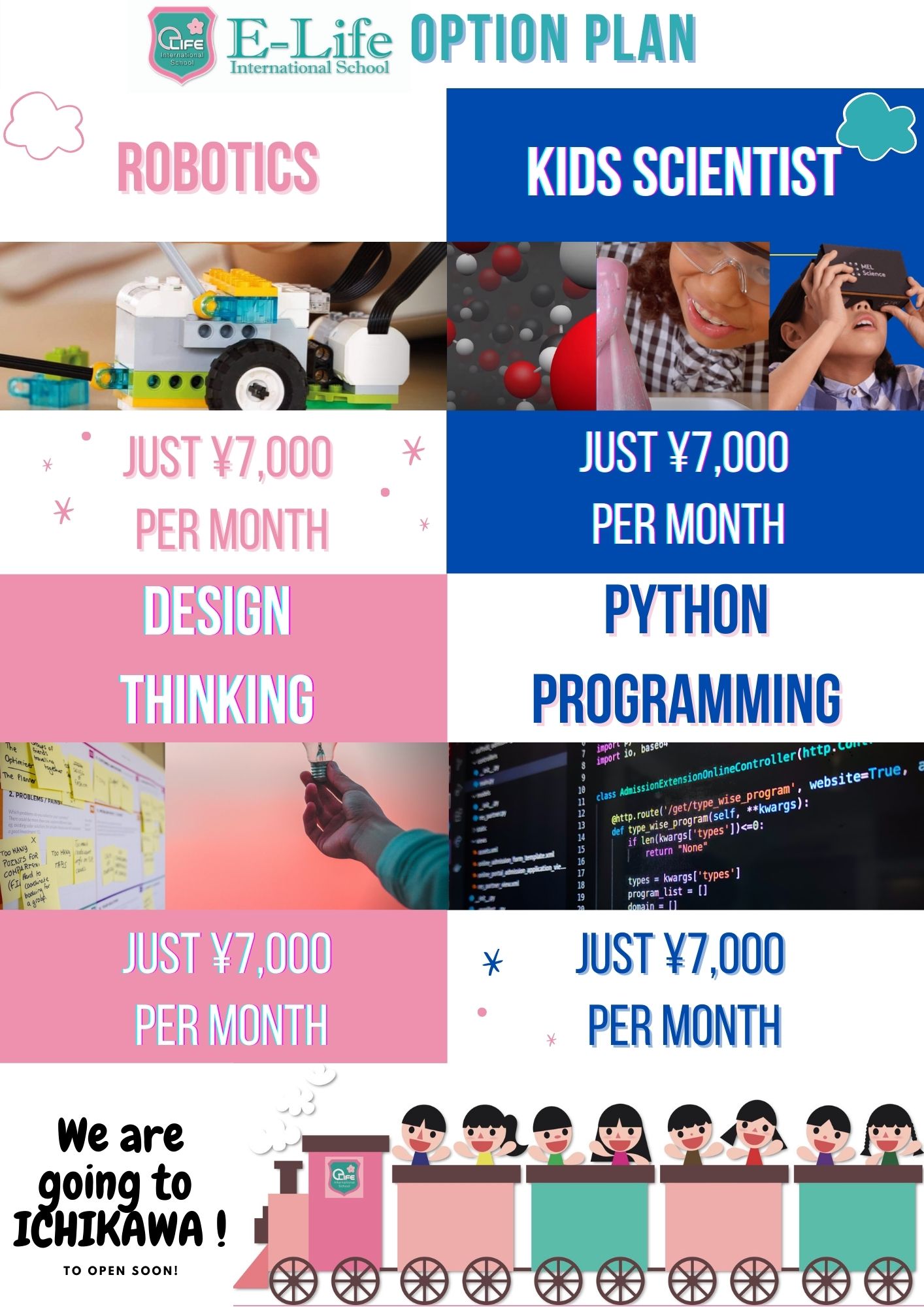 ★【ADVANCED RESERVATION IS REQUIRED】FACILITY/SCHOOL TOURS & OPTIONAL PROGRAM TRIAL ARE NOW BEING ACCEPTED! BOOK A VISIT NOW! 
 【FACILITY TOURS】
 ★AVAILABLE ALL WEEKEND MORNINGS FROM 7:30〜21:00。
 ★ To book a reservation,please contact us thru call or email us at This email address is being protected from spambots. You need JavaScript enabled to view it.。
※見学のみをご希望の場合はオンライン見学も可能です。
※3月・4月利用開始どちらも可能です。
【Facility Tour+Optional Course Experience】
Available during Weekday Evenings, including Saturdays and Sundays。
※We have set a limit to the number of visitors, so as to prevent the possible spread of infectious disease。
※Since we are receiving a large volume of inquiries and reservations, availability of the above-mentioned experiences may vary or change with notice。
★Trial Lessons (experience) Schedule of Availability★
○Available △Limited Slots x Full
2/27(Sat)【Kids Scientist】
14:00-14:40 
O
3/2(Tue)【English Conversation】
18:00-18:30 ✕ Full
18:30-19:00 ✕ Full
3/3(Wed)【Kids Scientist】
18:00-18:30 
O
18:40-19:10 ✕
3/6 (Sat) 【Kids Scientist】
11:00-11:30   
O
15:20-15:50   
O
16:00-16:30   
O
16:40-17:10   
O
★☆NEW☆★3/6 (Sat) [Phyton Programming】
14:00-15:00
3/7 (Sun) 【Robot Work】
10:00-10:40   △
11:00- 11:40  
O
12:00-12:40 
O
13:00-13:40 
O
14:00-14:40 
O
15:00-15:40 
O
16:00-16:40 
O
17:00-17:40 
O
aTo know more about our school, you may visit our social media accounts in
 Facebook and Instagram!
>>> E-Life Ichikawa Facebook <<<
 We also accept reservations and booking for tours and trial lessons from LINE. Feel free to reach us on LINE by scanning the QR Code below: